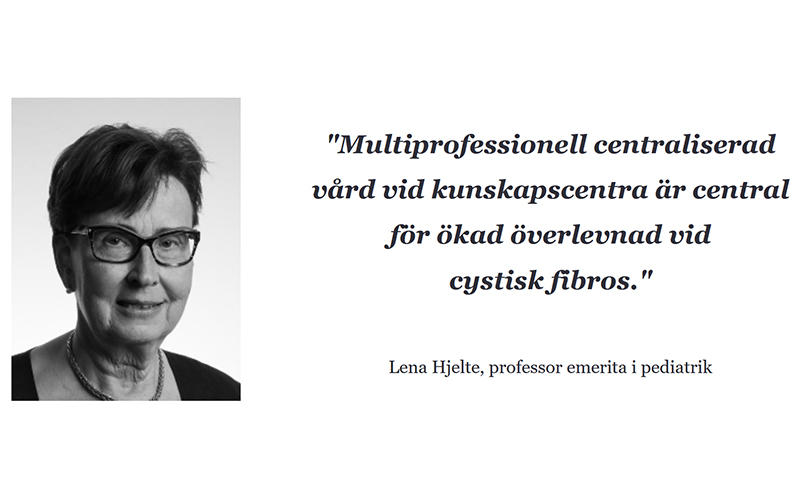 PraktiskMedicin.se is one of Sweden's largest platforms for information and education for doctors and other healthcare professionals. Training courses in various therapeutic areas are launched on an ongoing basis, the latest of which deals with the multi-organ disease cystic fibrosis.
Every month PraktiskMedicin.se is visited by 370 000 unique visitors, the majority of whom are healthcare professionals. Many doctors use the PM Academy training platform where over 15,000 training courses have been delivered in the last two years.
Cystic fibrosis is an autosomal recessive disease caused by a mutation in a gene called cystic fibrosis conductance regulator (CFTR). The disease affects many organs and usually involves chronic or recurrent infection of the lung, prolonged productive cough, growth failure, pancreatic insufficiency, liver failure, and male infertility. The PM Academy training consists of 6 questions and answers and was developed in collaboration with Lena Hjelte, Professor Emerita of Paediatrics and Senior Physician at the Stockholm CF Centre and the Unit for Paediatric Pulmonary Medicine and Allergy, Karolinska University Hospital, Huddinge and Solna. The aim is to increase the knowledge of prescribing health professionals.
– Multi-professional centralised care at knowledge centres is key to increasing survival in cystic fibrosis. For doctors outside these centres, it is important to recognise the symptoms of the disease and, where appropriate, participate in shared care,' says Lena Hjelte.
The PM Academy training courses have a format that inspires and motivates learning in an interactive way. A new approach is also to use short video introductions to make it more accessible. Each training takes about 15 minutes to complete.
– In Sweden, we do not have neonatal screening for cystic fibrosis, as most other countries in Europe do, and this means that we as physicians need to be alert to symptoms suggestive of cystic fibrosis even in older children or in adults. Those of us who work in hospitals and clinics outside CF centres may also encounter patients with cystic fibrosis who have complications, and it is important that we also refresh our knowledge regularly,' says Rebecka Kaplan Sturk, specialist in gynaecology/obstetrics and acting editor-in-chief of Praktisk Medicin.
In 2020, PraktiskMedicin.se launched its education platform in the rest of the Nordic countries, where there is also a great interest and need for continuing education for healthcare professionals. More training courses in different therapy areas are to be expected.
For more information:
Rebecka Kaplan Sturk, Praktisk Medicin
[email protected]
The cystic fibrosis training has received independent financial support from Vertex Pharmaceuticals.