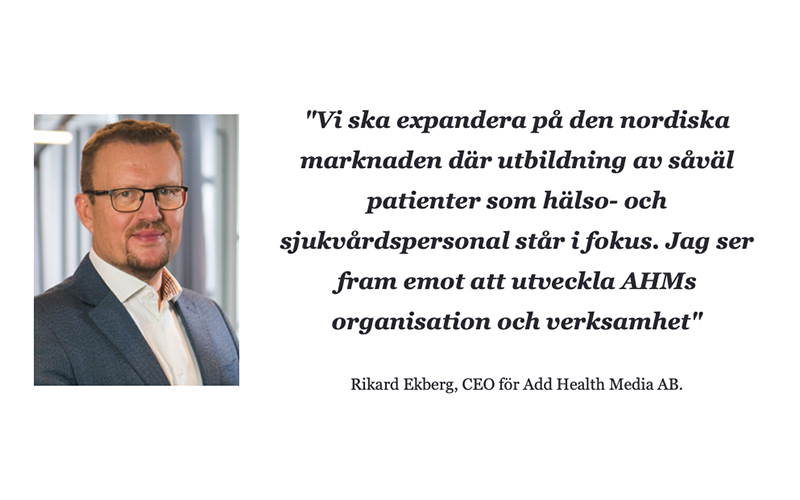 Add Health Media (AHM) is investing in strengthening its presence in all Nordic countries and is now appointing Rikard Ekberg as CEO. AHM is already the largest media player in Sweden, reaching both healthcare staff and patients. The company has had a presence throughout the Nordic region since 2014, but wants to become the largest player in each country.
Rikard Ekberg replaces the founder Johan Bloom, who will be the CEO of the newly formed Add Health Capital (AHC), which focuses on investments in the health tech area. Rikard has been a partner in AHM since 2017 and has, among other things, worked as COO and Sales manager in the company. He has worked in the pharmaceutical industry since the mid-1990s in e.g. the areas of therapy gastroenterology, psychiatry, rheumatology and dermatology and neurology. Rikard has held leading positions in sales and marketing at Wyeth / Pfizer and built up Nordic organizations for Shire and Sunovion.
– I look forward to refining and building on what Johan has built up since the start in 1999 and continue to develop new innovative services together with our customers. We already have a strong team in place in Sweden that will be further strengthened both within and outside the country's borders. With competent and enterprising employees, we will expand in the Nordic market where training of both patients and healthcare professionals is in focus. We see how appreciated our medical educations at PraktiskMedicin.se are and already have several Nordic projects underway. This work is now being intensified and I look forward to developing AHM's organization and operations, says Rikard Ekberg, CEO of Add Health Media AB.
AHM has grown very fast through investments and digitization of training for doctors and also for patients in various disease areas. Growth has also been driven by the pharmaceutical companies' desire to reach the entire Nordic region through one player. Here, AHM is the only player to meet the need to reach doctors and patients in all the Nordic countries.
Add Health Capital AB is formed
Since 2016, AHM has invested in fast-growing companies in e-health, ie digital health services. These investments have been very profitable and therefore the company is now divided into Add Health Media AB for the media operations and Add Health Capital AB for the investment operations.
– Rikard has already managed most of the media business over the past year while I have focused on investments. We now want to take the next step where we invest even more in what goes well in each business line and make it clearer for our own organization and for our partners, investors and customers so that we can continue our journey with an even higher growth rate that can improve care and knowledge in health and medicine, says Johan Bloom, CEO of Add Health Capital AB.
AHM consists of several different media such as Doktorn.com, which is one of Sweden's largest websites for health information for patients, as well as the Nordic sister sites isundhed.dk, alltomhelse.no and nettiterveys.fi. AHM's waiting room TV has received a boost with its tailored channel and its unique reach in the care and dental care waiting room. Since 1976, the health care staff has had confidence in Praktisk Medicin, where PraktiskMedicin.se is now one of the largest platforms aimed at doctors and other health care staff who need information or training in various diagnoses.
AHC is a partner in about twenty e-health companies, including Mindler, Doctrin, Colivia, Knodd, Health Integrator, Medicheck, FindOut Diagnostic, Migraine Aid, Vitala, Curoflow, Belly Balance, Learning2sleep, Eatit and Geras Solutions.
For more information:
Rikard Ekberg, CEO Add Health Media AB
[email protected] , 0709-21 61 23
Johan Bloom, CEO Add Health Capital AB
[email protected] , 0733-64 84 90